Hood Inner Panel Aluminium 5182
The main parts of aluminum alloy sheet used in cars are the body (four doors, two covers, fenders), which has become the most potential market for lightweight cars. The types of alloys involved in the body panels include 5182, 5754, 5052, 6016, 6022, 6111, 6181, 6061,etc.
Of them,5182 aluminum plate is often used for hood inner panel. The outer body panels are mainly made of 6016, 6111 and 6022 alloys. The size of the automotive aluminum sheets is mainly concentrated in the thickness of 0.7-3mm and the width of 900-2130mm.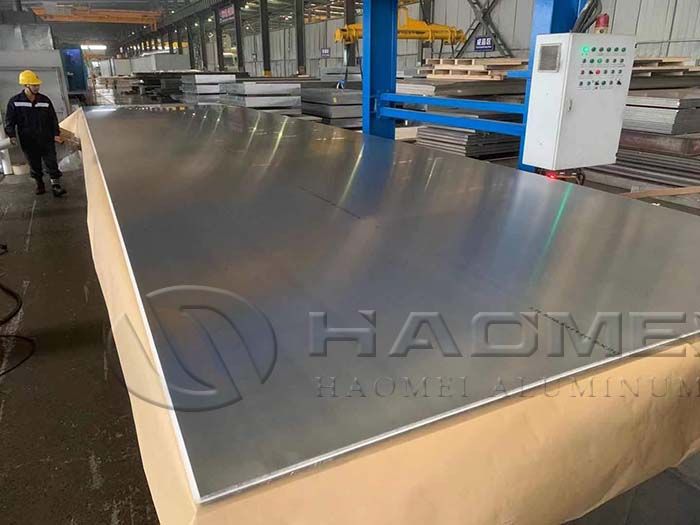 The use of wide panels is steadily increasing. For example, the bonnets of BMW 5 Series and 7 Series cars, Mercedes-Benz E-Class and S-Class are made of aluminum panels with a width of 2100mm.
The aluminum alloy sheet for car body requires good deep drawing performance, no tensile strain stripes, rapid aging, and high strength properties. The automobile inner liner is mainly made of 5000 series (5052, 5182) aluminum alloy, and the automobile outer plate is mainly made of bake-hardenable 6000 series aluminum alloy.
5000 series aluminum alloy has high strength, high formability, high corrosion resistance, high surface treatment and excellent weldability, and is widely used in the inner cover of automobile engine, front cover, trunk rear cover, body roof panel, front and rear wheel covers, doors, etc. The average amount of aluminum sheet for all-aluminum car body is 50 kg/vehicle.
5xxx aluminum plate is also used for commercial vehicles. For example, 5083 alloy is used for the bottom plate and side wall of tank trucks and dump trucks; 5182 alloy is used for containers and tanks for powder and dangerous goods (gas, fuel).
The body side panels and inner panels of the semi-trailer are made of 5052 grade aluminium with a thickness of 4-5mm. The body of the dump truck is made of 5AD3 and 5A05 alloy aluminum sheets with a thickness of 3-5mm.
In terms of profitability, aluminum sheets for automobiles have high technical requirements. It has many processing procedures, strict control of performance indicators, low yield and high cost. So automotive aluminum sheet price is relatively high. Welcome to leave message below to inquire what you need.
Original Source:https://www.autoaluminumsheet.com/a/hood-inner-panel-aluminium-5182.html
Tags: 5182 aluminum sheet ,
Prev:6016 Aluminum Used in Automotive Industry ​
Related Product
Related Blog
Related Application
Contact Form