Aluminium Body Panels for Insider and Outer Car Door
Why Choose Aluminium Body Panels
Being Lightweight is to reduce the weight of the vehicle as much as possible while ensuring the strength and safety of the vehicle, thereby improving the dynamics of the vehicle, reducing fuel consumption, and reducing exhaust pollution.
In recent years, due to the increasingly stringent requirements for environmental protection and energy saving, automobile lightweight has become a main developing trend. The density of aluminum is only 1/3 of that of steel, and it has good plasticity and recyclability, making it an ideal lightweight material for automobiles.
Research data released by the well-known consulting company Ducker Worldwide shows that the average amount of aluminum used in European cars has tripled since 1990, from 50kg to the current 151kg, and will increase to 196kg in 2025.
At present, the trend of automobile lightweight is becoming more and more fierce, and aluminum alloys are widely used in wheel hubs, engines, radiators, and oil pipes. The body weight accounts for about 40% of the total weight of the car. For the lightweight of the vehicle, the lightweight of the car body plays a decisive role.
The car door is one of the man automobile body parts. It is to provide a passage for the driver and passengers to enter and exit the vehicle, isolate the interference outside the car and reduce side impact to a certain extent. The commonly used aluminum sheets for the car door are 5182 and 6061 alloys.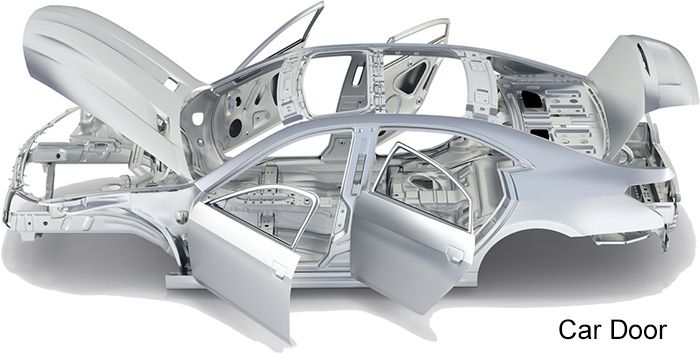 The Properties of 5182 and 6061 Aluminum Alloy
5182 aluminum alloy: It is a kind of Al-Mg alloy. The 5182 aluminum alloy has good corrosion resistance, excellent weldability, good cold workability, and has a moderate amount of silicon, so the weldability is better than 5A02. It is applicable for gas welding, argon arc welding, and spot welding. Its tensile strength is slightly better than 5052.
6061 aluminum sheet: Its main alloy elements are magnesium and silicon, which have medium strength, good corrosion resistance, weldability, and good oxidation effect. It is widely used in various industrial structural parts that require a certain strength and high antimicrobial corrosion. It is often used for car doors, hood cover, truck lid, automobile wheels, automobile seats, etc.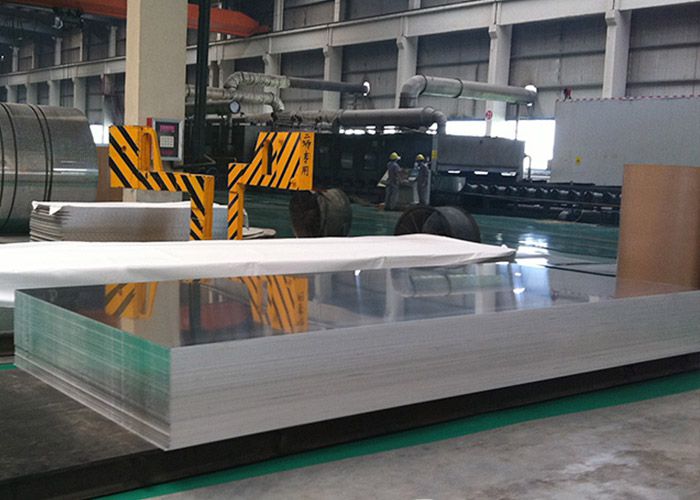 Specification of Aluminum Sheets for Car Door
| | | | | | | | | | |
| --- | --- | --- | --- | --- | --- | --- | --- | --- | --- |
| Alloy | Si | Fe | Cu | Mn | Mg | Cr | Zn | Ti | Standard(wt%) |
| 5182 | 0.20 | 0.36 | 0.15 | 0.20-0.50 | 4.0-5.0 | 0.10 | 0.25 | 0.10 | EN/ASTM |
| 6061 | 0.40-0.80 | 0.70 | 0.1-0.40 | 0.15 | 0.8-1.2 | 0.04-0.35 | 0.25 | 0.15 | GB/EN/ASTM |
| | | | | |
| --- | --- | --- | --- | --- |
| Alloy | Tempers | Thickness(mm) | Width(mm) | Length(mm) |
| 5182 | O/H111 | 0.5-3.5 | 1200-2650 | 500-16000 |
| 6061 | O, T4, T6, T651, F, H112 | 0.3-500 | 100-2800 | 500-16000 |
Original Source:https://www.autoaluminumsheet.com/application/aluminium-body-panels-for-insider-and-outer-car-door.html
Tags: aluminium body panels , 6061 aluminum sheet , 5182 aluminum alloy ,
Next:ABS Aluminium Body Panels
Related Product
Related Blog
Contact Form